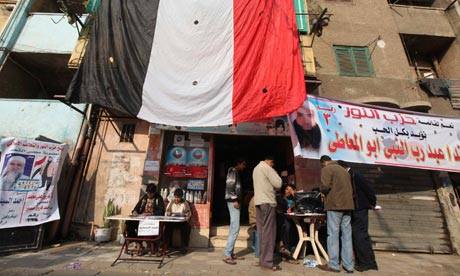 The first round of Egypt's parliamentary elections saw a 62 percent voter turnout, the judicial committee supervising the elections said Friday
Councilor Abdel-Moez Ibrahim, head of the Supreme Electoral Commission (SEC), said the turnout was "unprecedented," adding that it was the "most in Egypt's history as far back as the pharaohs, even with the forgery of the former regime."
Out of 13,614,525 eligible voters in the nine governorates of the first round, 8,449,115 voted on Nov. 28-29.
During the brief press conference held to announce the results of the first round, Ibrahim highlighted the main complaints, stressing that the violations reported do not void the elections, while promising to avert them in the following two rounds.
The main violations including campaigning outside polling stations, long queues and lack of facilities for people with disabilities, the delay in the arrival of judges and ballots in "limited cases," the delivery of unstamped ballots, minor incidents of violence and improper places allocated for sorting and counting the votes.