December 2011
Written by ndpfront
Friday, 30 December 2011 12:06
Iran claimed to have taken surveillance footage of a US aircraft carrier near the Strait of Hormuz as both countries raised the stakes in their standoff over the key oil route.
By Raf Sanchez, Washington
The commander of Iran's navy said the reconnaissance mission was proof that his fleet had "control over the moves by foreign forces" but it was unclear what intelligence could be derived from the grainy video, which was played triumphantly on state television.
Admiral Habibollah Sayyari's statement came as Iranian ships, helicopters and submarines continued a 10-day war game exercise designed to give credibility to the country's threat to close the Strait and choke off the world's oil supplies if the West moves ahead with sanctions.
Read more
Last Updated ( Friday, 30 December 2011 12:24 )
Written by ndpfront
Friday, 30 December 2011 11:58
Venezuelan president suggests spate of cancer among leftwing South American leaders may be inflicted by US technology
Tom Phillips guardian.co.uk, Thursday 29 December 2011 13.37 GMT Article history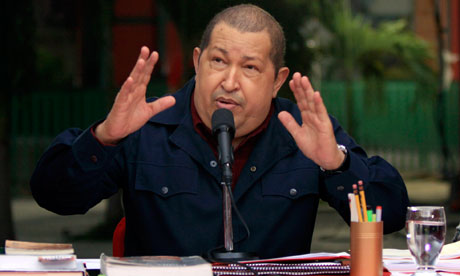 He has called George W Bush the devil and described Barack Obama as a clown.
But Hugo Chávez's customary jabs at his neighbours to the north took an unusual turn this week, when the Venezuelan president suggested that Washington might be behind a wave of cancer among Latin American heads of state.
"Would it be so strange that they've invented the technology to spread cancer and we won't know about it for 50 years?" Chávez pondered, one day after Argentina's president Cristina Fernández de Kirchnerannounced she had been diagnosed with thyroid cancer and would undergo surgery in January.
Read more
Written by ndpfront
Friday, 30 December 2011 11:36
Turkey's government forced to admit victims of bombing were not Kurdish separatist fighters
Peter Beaumont guardian.co.uk, Thursday 29 December 2011 18.42 GMT Article history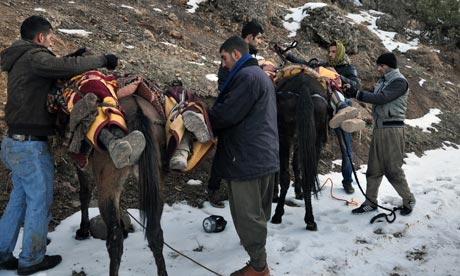 The donkeys had been sent across Turkey's south-eastern border withIraq to ferry vats of smuggled diesel and cigarettes. On Thursday when they came back it was with bodies wrapped in carpets lashed to their sides: the victims of a Turkish air raid that killed up to 35 villagers from this remote region.
In a major embarrassment for Turkey's government, it was forced on Thursday to admit that the dead, originally described by the Turkish army as Kurdish separatist fighters from the banned PKK, were civilians, misidentified by Turkish drones and then bombed on Wednesday evening as they travelled close to the Iraqi border.
Read more
Last Updated ( Friday, 30 December 2011 11:50 )
Wednesday 28 December 2011
Written by highfalutinallu
Wednesday, 28 December 2011 11:05
The wife of the missing Jaffna political activist Kugan Muruganandan has sought his release in view of Christmas.

The appeal by Muruganandan Chanda came at a media briefing today (Dec. 25) convened by relatives of Kuganand Lalith Kumar Weeraraju, who disappeared several days ago.
Read more
Last Updated ( Wednesday, 28 December 2011 11:14 )
Written by ndpfront
Monday, 26 December 2011 20:12
Movement for Peoples Struggle – UK held a protest demonstration in front of Sri Lanka High Commission in London on 19 December, 2011. London demonstration joined the wave of demonstrations being held in Sri Lanka and in foreign countries to urge ruling party administration in Sri Lanka to release abducted and illegally detained two MPS activists, Lalith Kumara Veeraraj and Kugan Muruganathan, in Jaffna on 9 December while organizing a MPS media conference scheduled to be held on the following day.
Read more
Last Updated ( Monday, 26 December 2011 20:17 )
Written by highfalutinallu
Sunday, 25 December 2011 01:26
Southwest China's Sichuan province will hike the minimum monthly wage by about 23.4 percent starting Jan. 1, 2012, to help attract laborers facing rapidly rising living costs, local authorities said Thursday. The minimum monthly wage will be raised to 1,050 yuan (166 U.S. dollars), 960 yuan, 880 yuan and 800 yuan in regions at different levels of development, the provincial human resources and social security office said in a statement. Sichuan, with a population of 89 million, is a major source of migrant workers for major cities around China, especially in the eastern coastal manufacturing hubs. In the southern economic powerhouse of Shenzhen, local authorities plan to raise the minimum monthly wage by 15 percent to 1,500 yuan in January to attract laborers. Severe labor shortages and rising living costs in Chinese cities prompted wage hikes both this year and last year. Twenty-one provinces, autonomous regions and municipalities had raised the minimum monthly wage by an average of 21.7 percent by October this year, according to Yin Chengji, spokesman for the Ministry of Human Resources and Social Security.
(more)
Read more
Written by highfalutinallu
Sunday, 25 December 2011 01:10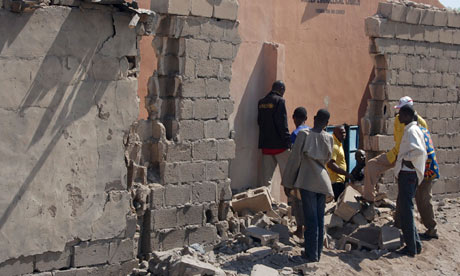 Several days of violence in the Nigeria's northeast has left churches bombed and people hiding in fear.The country's authorities said at least 61 people have died in the violence.The government has now ordered a dusk until dawn curfew in the Yobe state, where at least 50 people died, following attacks by the sect known as Boko Haram.In Maiduguri, the capital of neighbouring Borno state, bombs reduced at least three churches to rubble and raised fears of further attacks by a group that claimed Christmas Eve bombings last year that killed dozens.The fighting began Thursday in the two states, with gunfire and explosions heard into the night and the following day in an arid region that borders Cameroon, Chad and Niger.
Read more
Thursday 22 December 2011
Written by highfalutinallu
Thursday, 22 December 2011 12:52
"The surge of mass rising can't be stopped by killing us."
Supreme Leading Committee, PBSP (MBRM), 1st week, December'11.
The Communists guide the oppressed class to the way of freedom, lead them in the struggle of changing their fate. Hence, for the reactionaries, the most favourite option for keeping the oppressed under control is to demolish the communists. It is their design to diminish the onward movement of revolution, which is essential for the oppressed class. In the Indian subcontinent, such a barbaric attitude was first imported by Indira Gandhi and the Congress govt. Later on, it was exported to the neighbouring countries including East Bengal. Sonia Gandhi, daughter-in-law of Indira Gandhi, present leader of the Indian Congress party, is still practising the same reactionary, savage, severe policy of which Comrade Kishenji has been the last victim.
Read more
Last Updated ( Thursday, 22 December 2011 12:59 )
Wednesday 21 December 2011
Written by ndpfront
Wednesday, 21 December 2011 08:50
On the Dark Side in Al Doura - A Soldier in the Shadows from Pulse TV & Maverick Media on Vimeo.
WARNING: Graphic and disturbing photos between 38:40 and 40:45.
U.S. Army Ranger John Needham, who was awarded two purple hearts and three medals for heroism, wrote to military authorities in 2007 reporting war crimes that he witnessed being committed by his own command and fellow soldiers in Al Doura, Iraq. His charges were supported by atrocity photos which, in the public interest, are now released in this video. John paid a terrible price for his opposition to these acts. His story is tragic.
Read more
Last Updated ( Wednesday, 21 December 2011 08:56 )
Written by highfalutinallu
Tuesday, 20 December 2011 10:37
 On the International Human Rights day, Lalithkumar and Kuhan Murugan have been abducted by Government Mercenaries and they are missing. We, the New Democratic People Front, appeal for their immediate release.
We give our strong support  to the island wide demonstration and show our solidarity with the participants of procession for the release of the abducted.
Read more
Last Updated ( Tuesday, 20 December 2011 10:40 )
Page 1 of 9

| | | |
| --- | --- | --- |
| | Today | 32 |
| | Yesterday | 160 |
| | This Week | 398 |
| | This Month | 4239 |
| | All Days | 1021826 |
?
This page uses the IP-to-Country Database provided by WebHosting.Info (http://www.webhosting.info), available from http://ip-to-country.webhosting.info