Friday, 30 December 2011
Written by ndpfront
Friday, 30 December 2011 12:06
Iran claimed to have taken surveillance footage of a US aircraft carrier near the Strait of Hormuz as both countries raised the stakes in their standoff over the key oil route.
By Raf Sanchez, Washington
The commander of Iran's navy said the reconnaissance mission was proof that his fleet had "control over the moves by foreign forces" but it was unclear what intelligence could be derived from the grainy video, which was played triumphantly on state television.
Admiral Habibollah Sayyari's statement came as Iranian ships, helicopters and submarines continued a 10-day war game exercise designed to give credibility to the country's threat to close the Strait and choke off the world's oil supplies if the West moves ahead with sanctions.
Read more
Last Updated ( Friday, 30 December 2011 12:24 )
Written by ndpfront
Friday, 30 December 2011 11:58
Venezuelan president suggests spate of cancer among leftwing South American leaders may be inflicted by US technology
Tom Phillips guardian.co.uk, Thursday 29 December 2011 13.37 GMT Article history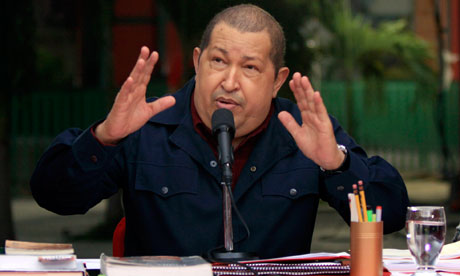 He has called George W Bush the devil and described Barack Obama as a clown.
But Hugo Chávez's customary jabs at his neighbours to the north took an unusual turn this week, when the Venezuelan president suggested that Washington might be behind a wave of cancer among Latin American heads of state.
"Would it be so strange that they've invented the technology to spread cancer and we won't know about it for 50 years?" Chávez pondered, one day after Argentina's president Cristina Fernández de Kirchnerannounced she had been diagnosed with thyroid cancer and would undergo surgery in January.
Read more
Written by ndpfront
Friday, 30 December 2011 11:36
Turkey's government forced to admit victims of bombing were not Kurdish separatist fighters
Peter Beaumont guardian.co.uk, Thursday 29 December 2011 18.42 GMT Article history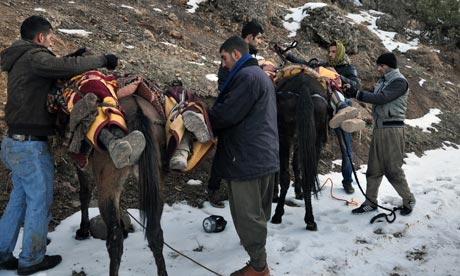 The donkeys had been sent across Turkey's south-eastern border withIraq to ferry vats of smuggled diesel and cigarettes. On Thursday when they came back it was with bodies wrapped in carpets lashed to their sides: the victims of a Turkish air raid that killed up to 35 villagers from this remote region.
In a major embarrassment for Turkey's government, it was forced on Thursday to admit that the dead, originally described by the Turkish army as Kurdish separatist fighters from the banned PKK, were civilians, misidentified by Turkish drones and then bombed on Wednesday evening as they travelled close to the Iraqi border.
Read more
Last Updated ( Friday, 30 December 2011 11:50 )
| | | |
| --- | --- | --- |
| | Today | 32 |
| | Yesterday | 160 |
| | This Week | 398 |
| | This Month | 4239 |
| | All Days | 1021826 |
?
This page uses the IP-to-Country Database provided by WebHosting.Info (http://www.webhosting.info), available from http://ip-to-country.webhosting.info