Sunday, 25 December 2011
Written by highfalutinallu
Sunday, 25 December 2011 01:26
Southwest China's Sichuan province will hike the minimum monthly wage by about 23.4 percent starting Jan. 1, 2012, to help attract laborers facing rapidly rising living costs, local authorities said Thursday. The minimum monthly wage will be raised to 1,050 yuan (166 U.S. dollars), 960 yuan, 880 yuan and 800 yuan in regions at different levels of development, the provincial human resources and social security office said in a statement. Sichuan, with a population of 89 million, is a major source of migrant workers for major cities around China, especially in the eastern coastal manufacturing hubs. In the southern economic powerhouse of Shenzhen, local authorities plan to raise the minimum monthly wage by 15 percent to 1,500 yuan in January to attract laborers. Severe labor shortages and rising living costs in Chinese cities prompted wage hikes both this year and last year. Twenty-one provinces, autonomous regions and municipalities had raised the minimum monthly wage by an average of 21.7 percent by October this year, according to Yin Chengji, spokesman for the Ministry of Human Resources and Social Security.
(more)
Read more
Written by highfalutinallu
Sunday, 25 December 2011 01:10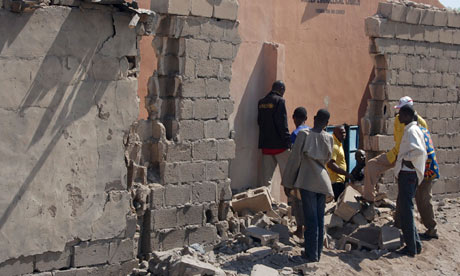 Several days of violence in the Nigeria's northeast has left churches bombed and people hiding in fear.The country's authorities said at least 61 people have died in the violence.The government has now ordered a dusk until dawn curfew in the Yobe state, where at least 50 people died, following attacks by the sect known as Boko Haram.In Maiduguri, the capital of neighbouring Borno state, bombs reduced at least three churches to rubble and raised fears of further attacks by a group that claimed Christmas Eve bombings last year that killed dozens.The fighting began Thursday in the two states, with gunfire and explosions heard into the night and the following day in an arid region that borders Cameroon, Chad and Niger.
Read more
| | | |
| --- | --- | --- |
| | Today | 32 |
| | Yesterday | 160 |
| | This Week | 398 |
| | This Month | 4239 |
| | All Days | 1021826 |
?
This page uses the IP-to-Country Database provided by WebHosting.Info (http://www.webhosting.info), available from http://ip-to-country.webhosting.info